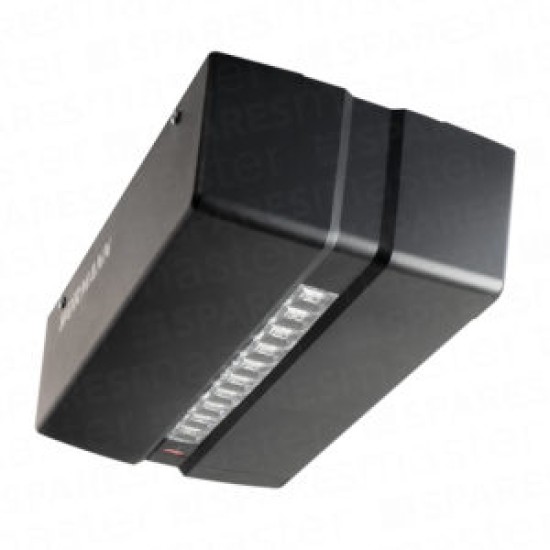 Same Day Dispatch Available
Order before 12 pm Mid-Day today for same-day dispatch
(Monday-Friday only) Excluding Bank Holidays.
Saturday /Sunday Delivery Available
Saturday/Sunday delivery available for orders placed between Thursday 12 pm Mid-Day - Friday 12 pm Mid-Day
Hormann Promatic Bisecur Series 4 Head Only
Garage Door Operator – ProMatic BiSecur – Series 4 (Head Only) - Door opening up to 40% faster (in comparison with ProMatic series 3)
ProMatic garage door operators feature the same proven Hörmann technology as all Hörmann premium operators. This guarantees reliable function – at an attractive price.
For domestic use – not suitable for commercial use!

For dry areas only
No. of parking operations: Max 12 door cycles (open/close) per day or 6 parking operations
Max door leaf surface 11.25m2
ProMatic
Pull and push force: 600

N

Peak force: 750

N
Travel speed: max. 14 cm/s in the CLOSE direction
Travel speed: max 20 cm/s in the OPEN direction
Door width: up to 5000 mm (max. 11.25 m² door surface)
Hormann part no' 4510294

Some of the NEW series 4 operator features include:
Energy-efficient LED lighting for bright, even garage illumination
Low power consumption of less than 1 watt in stand-by mode
Up to 40% faster door opening in comparison to ProMatic series 3
New 3rd opening height for "Ventilation" setting
HCP interface to connect accessories or external SmartHome systems
Standard equipment:

With two 2-button hand transmitters in 868.3 MHz
Each hand transmitter factory-coded individually from over 1 trillion combinations
Quick release operated from the inside connecting cable with CEE plug
Integral garage light with factory set 2-minute light
Door security kit as safety device
Universal installation bracket for up-and-over doors and sectional doors
Control Electronics:
1) Depending on door type, door leaf weight and door sizeThe ProMatic cannot be used on Hörmann LPU 67 sectional garage doors.
Housing: Plastic, galvanised steel base plate


Temperature range: From – 20°C up to + 60°C
Note: Installation of photocell is required if automatic timer is activated or impulse control without view of the door.
PLEASE SEE OUR RELATED PRODUCTS AREA BELOW FOR THE RAIL

Stock:

In Stock

Model:

Hormann Bisecur Series 4 HEAD

Weight:

8,000.00g